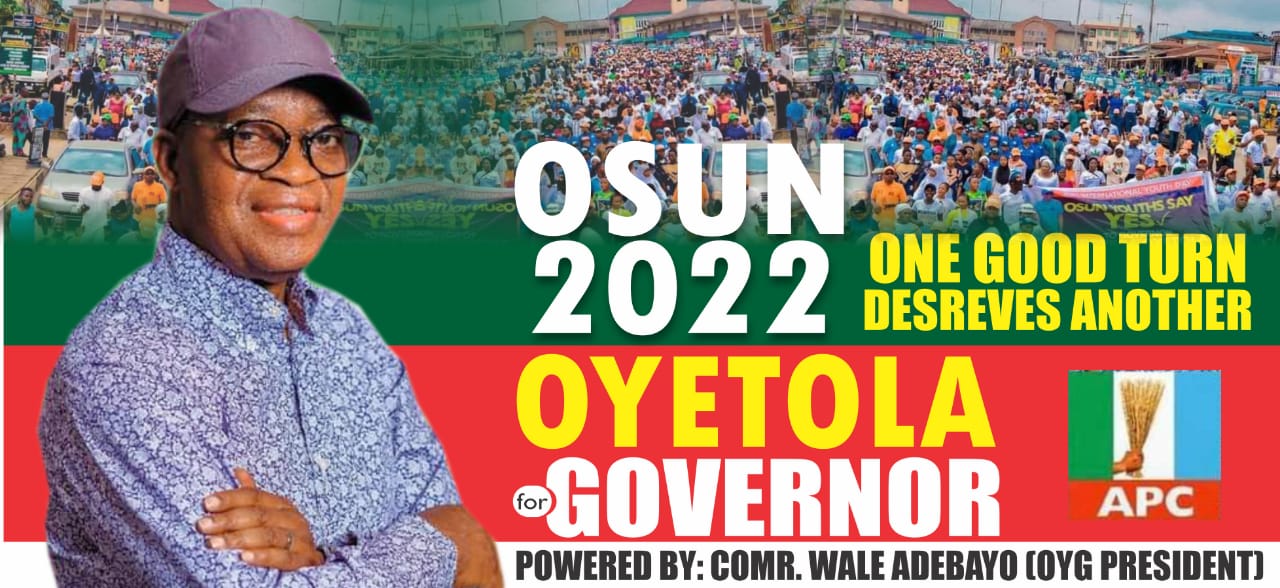 House of Representatives hopeful for Obokun/Oriade under the platform of APC, Seun Odofin, yesterday held his 2nd Edition of OYETOLA TRANSFORMATION Empowerment at Ijebu Jesa Grammar School to support the re-election bid of Governor Gboyega Oyetola.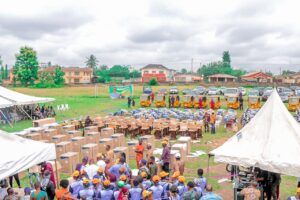 Giving out 10 tricycles, 20 Motorcycles, 50 Deep Freezers, 50 Generators, 50 Sewing Machines and cash support. About 350 beneficiaries benefitted from this year's edition of the empowerment programme
Below are some of Mr Seun Odofin's notable achievements in Obokun/Oriade in the last 3 years:
Payment of WASSCE fees for 23 indigent students from all the 23 wards in the Ijesha North Federal Constituency. Odofin further promised scholarship awards to all the 23 indigent students if they perform well in their WASSCE up to Polytechnic/ University level
Sponsorship of 150 students from Ijesha North Federal Constituency to study agriculture Fishery, Food technology, crop production and animal husbandry at the College of Agriculture,
Fisheries and Food technology-CAFFTECH
on Agro- Allied related courses
Co-Sponsorship of Essay Competition in Education sector organized by the state government to mark the Nigeria's 61st Independence anniversary.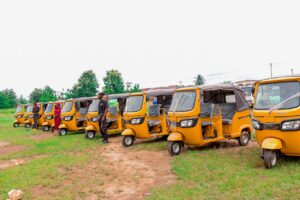 Sponsorship of the graduation ceremony of 150 indigent students from CAFFTECH who underwent 3-month intensive training in Agriculture and agro- allied related courses.
Establishment of international links to facilitate loans and grants through the bank of agriculture, Catfish Farmers Association of Nigeria, College of Agriculture, Fishery and food Technology CAFFTECH, FOARE Mushrooms Farms Global LLC situated at 2235 Serena Hills Drive, Ramona California 92065. USA, Donor agency and other stakeholders in Agriculture sector to all the 150 graduands of CAFFTECH.
Facilitation of three 500KVA transformers at Ifosan area in Ibokun, Yeyetutu Area and Orisunmibare area of Ijebu- Jesha respectively.
300 Solar lights across Ijesha North Federal Constituency
Provision of Solar Powered Boreholes at Ijebu-Jesha, Iwoye ijesa, Iwaraja, Eesun, Idooko, Ilase, and Otan Ile.
Facilitation of Covid-19 NISRA Loans of N400, 000.00 and N750,000.00 for 130 Ijesha North Federal Constituents.
Vocation and entrepreneurial activities carried out for 150 Ijesha North Federal Constituents.
Provision of Empowerment equipment such as 50 sewing machines for tailors.
Provision of 50 deep freezers for indigenes of Ijesa North Federal Constituency.
Provision of 50 Generators for artisans in Ijesha North Federal Constituency.
Provision of 50 Grinding Machines for Market women in the Constituency.
Provision of 20 Motorcycles for Okada riders.
Provision of 10 tricycles for tricycles operators in ijesa North Federal Constituency
.Health Sector- Provision of Equipment for tuberculosis Unit of maternity centre in Ijebu-Jesha with the needed medical and other equipment for them to cater for tuberculosis patients from all the 23 political wards in Ijesha North Federal Constituency.
Donation of 2 nos split Air conditional units.
Provision of Big generators, Refrigerator, rehabilitation and electrification and the tilling of the tuberculosis unit of the maternity centre.
Seun Odofin graded the road leading to Pa Anjorin's House in Ibokun. 7Km Erin Oke to Akola road in ward 1, Oriade local government is currently under review ditto with Old Owena road in Ward 7B Oriade South LCDA.
Seun Odofin through his foundation organised Ramadan lecture during the month of Ramadan in May 2021, the first of its kind in Ijesa North Federal Constituency.
He has also contributed to the growth of Churches in Ijesa North Federal Constituency through donations.
Payment for the rentage of APC secretariat, Ijebu-jesa from month of March 2022 to March 2023.
Donation of funds for the completion of National Union of Teachers Building, along Ijeda road, Ijebu-jesa.
Donation of funds for completion of NULGE building, Oriade local government area, Ijebu-jesa.