The General Overseer, Holy Ghost Power Assembly Worldwide, Bishop Sola Olubadejo, on Thursday urged Christians all over the world to give praise to God and lift Him high, as the only way to show they have not forgotten His mercies.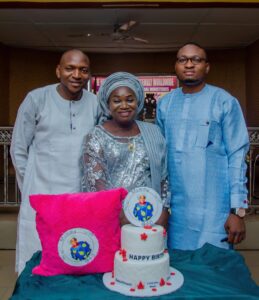 Bishop Olubadejo made this known at the 60th birthday thanksgiving service in honour of Deaconess Dorcas Bolanle Akintade.
At the birthday service, held at the headquarters of the Holy Ghost Power Assembly Worldwide, Mathew Ajala Street, Ogo-Oluwa, Osogbo, Osun State, the cleric said: "Depression has become a global epidemic and if one is not careful, the challenges of life, even in the holy order, can make a person forget that God is good".
Bishop Olubadejo, who observed that many successful people forget that all they have is through God's grace, charged everyone to always remember the Rock from which man was healed and restored.
He said the secret of success is God, and that even if one works for long hours, refusing to eat or sleep, nothing will work if God does not grant increase.
To buttress his point, Bishop Olubadejo quoted a Bible verse, Psalm 145, which teaches us on how to be thanking and appreciating God and how to be counting our day.
According to Bishop Olubadejo, "the importance of giving thanks to God is not about the money spent on the occasion or the pageantry, but a time to dance and sing before Him in worship and thanksgiving".
He gave the example of the ten lepers in the Bible, and how one out of the nine thanked God and glorified Him for the healing. He said the other nine lost the opportunity to receive blessings, because they failed to return and give thanks to Jesus.
He, therefore, admonished all to emulate the
celebrant and his family and always give thanks to God.
Bishop Olubadejo, who expressed sadness at the state of the nation, urged Christians to continue to pray for divine intervention, as only God can bring redemption to man and only Him has the answer to the problems plaguing the nation.
Bishop Olubadejo, wishing Deaconess Dorcas Bolanle Akintade a very Happy Birthday, adding that, "thanks for all you do as a mother to many people, may God lavish you and yours with inexpressible gifts in this new season and beyond in Jesus' name. You deserve a day as great as you.
"You are loved and blessed eternally, ma. You are a burning and shining light revealing the true nature of Christ and becoming a means by which many find their real identity, which is in God".
While speaking, the birthday's girl, Deacones Dorcas Bolanle Akintade who was highly elated appreciated the Almighty God, Ministers of God and people that joined her in celebrating her birthday.
Deacones Akintade however enjoined people to learn how to be appreciating God always.
Also speaking, a prominent labour leader, Comrade Sunday Adeleye Oluwole who is a unionist per excellence, elected the National President of Nigeria Civil Service Union (NCSU), appreciated God for the life of the celebrant, saying other women should emulate her style of life.
Comrade Adeleye, who was also unanimously elected as the youngest Nigeria Labour Congress, NLC, Chairman in the history of Ondo State Union described Deaconnes Akintade as a good mother of her children prayed that she would continue to live long with good health.
People from far and near who was at the well attended birthday's thanksgiving service as well as the party at Ikolaba lodge, Owode-Ede includes, Bishop Sola Olubadejo, Rev. Mrs. Modupe Olubadejo, Pastor & Pastor. Mrs. Bolade Ojo, Pastor & Pastor. Mrs. Olabanji Jeje, Deacon & Mrs. Muyiwa Oyeleye, Elder & Pastor. Mrs. Monshood Oladejo, Elder. Pastor. Mrs. Julius Adeleke Taiwo, Pastor Funsho Olarewaju, Pastor Yemi Ogundele and Pastor Samuel Elijah among others.