REACHING THE WORLD WITH THE WORD: MY NUMBER ONE GOAL FOR MY GUINNESS WORLD RECORD ATTEMPT
– Rev Emmanuel Olorunmagba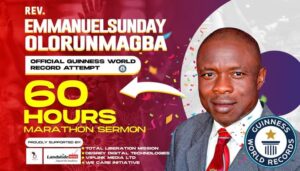 The president of Total Liberation Mission, Rev Emmanuel Olorunmagba, who had proposed 60 hours marathon sermon, covering the book of Genesis to Revelation, to break the Guinness World Record; has said that his ultimate goal for the Guinness World Record attempt is mainly to take advantage of such opportunity to reach a wider audience with the living word of God in an attempt to ensure many lives are touched.
He started his address by quoting "Apostle Paul who categorically and fundamentally asserted as follows in the book of 1 Corinthians 9:19-23:
'19. For though I be free from all men, yet have I made myself servant unto all, that I might gain the more.
20. And unto the Jews, I became as a Jew, that I might gain the Jews; to them that are under the law, as under the law, that I might gain them that are under the law;
21. To them that are without law, as without law, (being not without law to God, but under the law to Christ,) that I might gain them that are without law.
22. To the weak became I as weak, that I might gain the weak: I am made all things to all men, that I might by all means save some.
23. And this I do for the gospel's sake, that I might be partaker thereof with you.'
'And he (Apostle Paul) further added in the book of 1 Corinthians 11:1
'Be ye followers of me, even as I also am of Christ.'"
He thus explained that "in total obedience to the Bible, specifically the verses quoted above, (though not limited to these scriptural quotations, but the entire Bible), I have resolved amongst other things to always take advantage of any opportunity to reach out with the Living Word of God, seizing any moment to present the message of salvation, hope, deliverance, healing, encouragement, reproof and rebuke; with the aim that as many people as possible will be touched."
The cleric reasserted that seizing the opportunity of the moment to spread the word of God, targeting a very large audience remains his number one goal. He therefore called on "those whose aim is also to ensure the word of God is brought to people at all costs", to partner with him in this move and disappoint their religious dogmatism (if they are still held bound by religion).
As he said he had received different kinds of attacks from those he referred to as religious folks, since he first made his intentions known. Adding that he is still envisaging more attacks from them since they assume that "preaching the word of God or reaching out with the Gospel must be in strict adherence to their hold-tight religious fundamentalism."
Alluding to Jesus Christ whom he stressed that he (Jesus) did not find it easy with the religious folks of His days as He was so criticized, attacked, persecuted and even brutally murdered for His system of reaching out to people, which was not in total agreement with the religious dogmatic and fundamentalists of that era.
"He (my Lord Jesus) was called a glutton, a drunk and friend of tax collectors. He was seen as always going against even the religious beliefs of the Jews. Yet they claimed to be seeds of Abraham. But Jesus reminded them that if truly they were seeds of Abraham they would do the work of Abraham and not seek to kill Him.
"Just like many religious folks, including but not limited to, even Pastors and other Servants of God that are supposed to have better understanding. Rather they have been lending themselves to the devil as an instrument of attacks to attempt to kill this vision of reaching out to a wider audience through taking advantage of Guinness World Record (GWR)."
Citing another example of Jesus Christ who sharply rebuked Satan that used Peter when he (Peter) released himself to the devil, he used the words of Jesus to all those who have become instruments of attack in the hand of the devil, trying to discourage him over this noble assignment, quoting from the book of Matthew 16:23 '…Get thee behind me, Satan: thou art an offense unto me: for thou savourest not the things that be of God, but those that be of men.'
Concluding he again quoted from the book of Philippians 1:18 as follows:
'But what does it matter? The important thing is that in every way, whether from false motives or true, Christ is preached. And because of this, I rejoice. Yes, and I will continue to rejoice.'
Adding that "even if those religious dogmatic folks still continue to erroneously assume that it is not good to take advantage of a good opportunity like this to reach more people with the Gospel (the word of God)," then just obey the scripture quoted
"In line with the Bible as quoted above, even if some Christians still continue to assume that my proposal to use the Guinness World Record (GWR) attempt as an opportunity to reach out with the word of God is from false motive, as far as it is the word of our God that I will reach out with, the reaction of a true child of God should be to rejoice and 'continue to rejoice.'"
Olorunmagba expressed gratitude to all those present at the Press Conference, and all who are supporting already, including those who still promised to support.