•harness taxes from 30m additional Jobs to shore up revenue
•says Nigeria has 220m human assets, houses world largest gas deposit
•as Labour Party (LP) and African Democratic Congress (ADC) maintains debt to be re-negotiated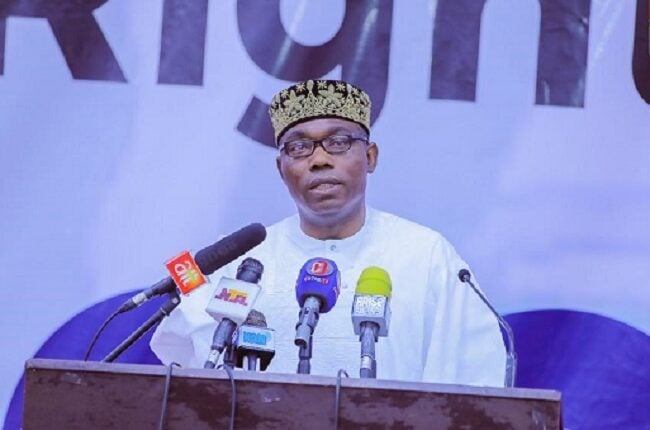 Presidential candidate of the Social Democratic Party (SDP), Prince Adewole Adebayo has said that he was not afraid of inheriting the N177 trillion debt which would be left for his administration by May 29, at the handover ceremony after winning the February 25 presidential election.
Adebayo said Nigerians should not be worried about the evidence of failure by the President Muhammadu Buhari administration that hired an unimaginative team to head the Central Bank of Nigeria and create debts instead of managing the economy.
Adebayo who spoke exclusively to Tribune Online said, the cumulative debt of N177 trillion Naira would be paid off in three budget circles, by his administration while Nigerians would have the full benefit of good governance which would fully activate sections of the Nigerian constitution that deals on welfare.
He said he does not see liability in Nigeria as he prepares to activate the various assets of the nation to turn around the grim situation to one, of international envy.
According to him, the 220 million population Nigerian citizens remained an asset that can be harnessed by creating jobs with living wages that could be taxed to pay up the debts.
He said that conversion of the land assets to various agricultural production would also harvest more taxable revenue to boost and address critical needs of the economy.
Adebayo told Tribune Online that he decided to contest for the presidency of Nigeria because of the myriad of challenges facing Nigeria, which in his view, are no challenge at all given the huge assets which abound in the country.
His words I knew these problems before I declared to run. In fact if these problems were not there, I would not have taken interest to run.
"When you have a debt profile that is put at N177 trillion, you are looking at the death side, what about the asset side?
"When I take my oath of office I am not just inheriting the debt, I am inheriting 220 million people. I am inheriting entrepreneurs. Nigerians are so lively highly energetic and already to work. I am inheriting the largest gas reserve. I am inheriting a vast agricultural land.
"I mean everything, all other things, solid minerals and all other assets. so the debt is so small when compared to the assets that we have. So, what I will do is, looking at structure of our debt
"If I push our revenue up by 32 % we will be fine but the window of pushing our revenue up is about 300 percents. And if I push down the wastage and the corruption by three quarters 75% with some saving pockets here and there. And do some mop up. I think that Nigerians would not even remember that we have debt profile at all.
We will retire the debts within three budget, the debt will be insignificant and the people will get employment, if I get 30 million jobs added to the workforce. The taxation on pay as you earn alone, will wipe this debt off.
"If I get agriculture productivity in four belts in the country, lower Kebbi upper Niger, in southern Kaduna plateau, axis, if I get agriculture in Oke Ogun. Part of south west Nigeria and do Agriculture in Benue that will significantly deal with the problem.
"I don't worry about that. It is not the load that kills but how you carry it, so, these debts represent a deficits of imagination. A deficit of creativity, a deficit of competence. Why I said so is not because I am in the mood to insult anybody
"I said so because their original sin is not managing our revenue accruers very well because they didn't mandate revenue accruers due to three problems that they have created for them selves include the fact that they don't have the competence to do an appraisal of revenue profile and capture all the revenue subheads and govern all the revenue sub-head prudently.
"Secondly, they are tardy in administration and supervision as the result? So many leakages even within the one they captured.
"Thirdly, they have collected campaign funding and other support from those who are benefiting from leakages and blind spots?
"So in other to keep their friends happy with them the their political structures, they have created no-go areas, as a result of that, they are not able to capture enough revenue.
"Because they have hired an unpatriotic and unimaginative Governor of central bank. So they're able to create debts, like a drunken sailor and turned he central bank to a casino that is why they have all these crises
Labour Party: We shall renegotiate the payment
The Nigerian Labour Party has said it would research into the various sources that accumulated to the N77 trillion under the President Mohammadu Buhari administration when it takes over in 2023 with a view to ascertain their statuses and evolve a payment strategy..
The Labour Party said the debt would be settled through productive measures to be adopted by the administration of people's party that would ensure that each of the 774 local governments are centres of production to boost the financial statuses of the population and the Gross Domestic Product of the country.
Chief spokesman of the Obi-Datti presidential campaign council, Dr. Yunusa Tanko said this to the Nigerian Tribune.
His words "It is indeed a huge task, however, the Labour Party would renegotiate debt and their payment strategy
"Leverage in the fact that we want to make this Nigeria nation as a production nation to be able to take care of the debts as it were.
"Subsidizing production to make it fast to have people working in all the 774LG producing
"Look into the areas to make sure that our economic stakeholders go into research on the debt managing situation because the debt is from many sources and we look at it critically."
ADC says it will renegotiate budget and not honour those that fail test of best practices.
Presidential candidate of the African Democratic Congress (ADC) Kachikwu Dumebi, argued that he would also re-negotiate the debt to seek debt forgiveness and dismiss debts that do not confirm to international best practices.
"If the Nigerian people give me their mandate as President of Nigeria, I will renegotiate all debts. Any debt that doesn't meet internationally accepted standards of transparency and due process will not be honoured.
"All other valid debts will be renegotiated with a view to seek debt forgiveness and reduction. All revenues leakages will be plugged while we rebase and broaden the economy to allow room for new SME's to emerge.
"Once we strengthen and support the middle class, create new jobs, boost manufacturing and increase non-oil exports, we will be in a better position to pay down or pay off all legitimate debts.
Dumebi emphasized that "The tragedy of the Nigerian story is that our debts have grown out of proportion but the Nigerian people have nothing to show for it."
ALSO READ FROM NIGERIAN TRIBUNE