Serena Williams' daughter Olympia Ohanian is showing off how she accompanies her mom on the court, with help from her dad, Alexis Ohanian.
In a new photo posted to her Instagram account on Saturday, Olympia is seen on the court as she preps for the tennis ball coming her way.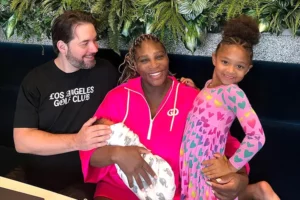 "Papa is my ballboy," reads a simple caption. The photo shows the 6-year-old in a white tank top and purple shorts, as she prepares for the ball with her two-handed backhand grip ready.
Ohanian commented on his daughter's post with an emoji confirming his role, "🙋🏻‍♂️!"
Williams, 42, shared with PEOPLE that she and Olympia began practicing on the court when COVID-19 began. She explained, "Honestly, we started because it's a socially safe sport, and when COVID happened, it was like, 'We're just in the house with a 3-year-old, what do we do?'"
Since the mother and daughter started sharing the court, the two have spent a great deal honing Olympia's tennis skills.
Never miss a story — sign up for PEOPLE's free daily newsletter to stay up-to-date on the best of what PEOPLE has to offer, from juicy celebrity news to compelling human interest stories.
While the two have sported matching sets on the court, Williams revealed on Person to Person with Norah O'Donnell, that Olympia "doesn't actually like to play tennis too much."
"That's a little disappointing for me, but she's actually really good at it," she shared with O'Donnell. "So we are trying to figure out a way to get her to play a little bit." The 23-time Grand Slam champion added, "Maybe I can push her into tennis by getting other kids to have a group lesson, I think that's what I'm gonna do."
This revelation followed the tennis star's push for he daughter to join her on the court in 2021, after she and her husband, Ohanian, signed up the then-4-year-old for her own tennis lessons.
Williams documented Olympia's first lesson on her Instagram Story, noting to her fans and followers that the coach "had no idea" that Olympia was Williams' daughter. "Don't even start with me because I'm not giving her tennis lessons, I signed her up for some," she explained.
"I'm not a pushy mom, but I know how I like techniques, I want to make sure she's good at teaching Olympia some techniques," she added.
While the couple's eldest daughter has been spotted on the court the past few years, Williams noted how the piano has caught her daughter's attention.
During an appearance on Jimmy Kimmel Live in November 2021, Williams shared, "She likes tennis, but I don't know. Honestly, she likes playing piano."
"And she's teaching me! Like, I'm not even kidding," she explained. "I have a baby Mozart, [but] of course every parent thinks they have like, a baby Beethoven or whatever."
In addition to sharing Olympia with Alexis Ohanian, the couple welcomed their second daughter, Adira River, on Aug. 22.
The couple announced Adira's arrival first on TikTok, and Ohanian then shared an Instagram of their two daughters together.
"I'm grateful to report our house is teaming [sic] with love: a happy & healthy newborn girl and happy & healthy mama," Ohanian wrote in the caption, "You've now given me another incomparable gift — you're the GMOAT."