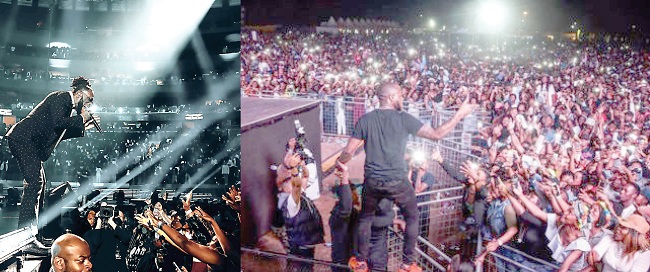 ROTIMI IGE, in this report, features the reactions of various musicians and entertainment industry stakeholders across Africa who opine that Nigeria's
Afrobeats is leaving no stone unturned in drowning other continental genres of music.
Nigerian musicians, armed with the broad classification that the world knows now as 'Afrobeats', have taken the world by storm and in 2022, broke records in all ramifications.
From Nigeria to South Africa, Asia, Europe to the rest of the world, artistes like Wizkid, Burna Boy, Asake, Ruger, Kizz Daniel, Yemi Alade dominated the line up of the biggest musical festivals with critical acclaim.
They would also headline their own events across various continents, selling out venues with thousands of fans, cut across different nationalities in attendance. It is safe to say, that Nigerian musicians were the most sought after on the African continent. So big was the impact of Nigerian music that the World Cup celebrations in Qatar had Davido on its theme song. Kizz Daniel, among other Nigerian stars also had their turns at the fan park during the tournament.
For streaming platforms, Nigerian entertainers became their cynosure, with the likes of Youtube, Spotify, Prime Video, Audiomack etc having dedicated presence in the country. International record labels also came for the most popular artistes with mouth watering deals. All these expanded the boundaries for local artistes and blew them to international standards, breaking various records along the line.
These successes have had its impact across Nigeria and indeed Africa. While Nigerian artistes, industry stakeholders and event organisers across the world have been smiling to the banks with increased revenue streams, some of their African counterparts not been so lucky, and have been voicing their concerns recently.
In 2020, a Cameroonian actor and comedian known as Pancho Cy International called on his fellow countrymen to shun Nigerian artistes and their crafts, claiming Nigerians entertainment was being celebrated more than their local content. He claimed that while Nigerian music was widely played and appreciated in Cameroon, the same could not be said of Cameroonian music in Nigeria.
"Ask any Nigerian DJ to play any Cameroonian song and all they would play is Awilo Logomba," he said. He also pointed out that when Wizkid visited Cameroon, he was given palatial reception by the presidency while no Cameroon artiste had ever enjoyed such honour.
Cameroonian singer, AmbeDiSing, in October last year, also called out his countrymen for playing more of Nigerian music in their clubs.
Ambe took to the Facebook to say that he has observed that many Nigerian clubs in the US play 95 percent of Nigerian music but when he returns to Cameroon, he finds that his people also play majorly Nigerian music in their clubs.
He questioned why this was so and called on the DJs to play songs by Cameroonian artistes in their clubs, not Nigerian songs.
He added, "Y'all cannot be spending all that Cameroonian sweat on Nigerian music while Nigerians spend their Nigerian sweat on Nigerian music… Do the maths oh."
A popular Cameroonian focused blog, Zamani, known for championing the cause of the country's talent, recently published a series of articles citing reasons  Cameroonians seemed to be absent from African and global music ranking/support.
In its 'Nigeria versus Cameroon' article published on December 27, 2022, it wrote, "When Nigerian artistes drop their songs, they contact their best comedians to use their songs in their skits , they go as far as getting over 50 TikTok influencers to dance to the songs and make it go viral on TikTok. Before you know it , the song is everywhere . They pay radio stations and go on media tours . They do everything to promote their music and the song becomes a trend . Kizz Daniel used Sabinus , Broda Shaggi and Brain Jotter to promote 'Cough' . Don Jazzy used Sabinus and Brain Jotter to introduce his artiste Bayanni. Their industry is interconnected from comedy to movies and  music.
"When Cameroonian artistes drop a song , they sit and say, "a good song doesn't need promo, if it was to go viral it will go viral" . Some even add that Cameroonian blogs are not enough and before you know it they start blaming it on Nigerians. Do Cameroonian artistes even value bloggers , comedians or TikTokers? No! Their relationship with the media is terrible . They always think they can do it all by themselves till it bounces".
It continued, "Truth be told, Nigeria has a well organised structure when it comes to this music thing . They have mastered the music business and the least Cameroonians can do is learn from them and collaborate.
"Stanley Enow , Locko , Jovi , Magasco and many others are doing well but they are still at the national level . We can support them to grow bigger but let's not lie to them that they are already big . There are thousands of artistes like them In Nigeria who are still struggling too.
Let's encourage our artistes to work harder, network and grow. Let them study the music business and how it works. We have great songs".
In Ghana, the stories are not so different. Ghanaian dancehall musician, Shattawale, after his successful concert in Tema, boasted about how his tickets sold out, a feat he said he managed without the support of Nigerian musicians.
In a viral video clip shared on social media, he said, "Do you know that [the] majority of people in the Ghana music industry are fools? They told me that I won't be able to fill my stadium. I don't look up to any […] Nigerian artiste. I look up to my fans. […]."
That outburst generated responses from his Nigerian colleagues, including Burna Boy who said on Instagram, "Pushing this agenda of separation between our beautiful African nations is a grave disservice to the generations coming after us. It goes against everything I stand for as a man and as an unapologetic pan Africanist. Therefore, if Shatta or anyone has a personal problem with me, I'm still open to fighting one on one and squashing it after…"
Such has been the disdain for the success of Nigerian music and how it seems to be overshadowing other African genres. In 2020, two rising Nigerian musicians, Omah Lay and Tems, were arrested in Uganda after performing at a concert that police said was contrary to Covid-19 laws. Ugandan musicians, including Cindy Sanyu and Gravity Omutujju, had earlier registered their displeasure about what they termed as 'selective enforcement' of Covid-19 rules, which they said enabled the Nigerian musicians to perform. Another furore ensued on social media with posts affirming tensions between Nigerian and Ugandan musicians.
These scenarios from different African countries likely suggest that other music industries believe they are unevenly matched to compete with the more popular Nigerian music genres.
In recent time, disgruntled local musicians have expressed their displeasure through channels available to them: from social media outbursts to petitions written via their local unions, and even physical protests.
On February 9, 2022, Kenyan comic and musician, Eric Omondi staged a one-man protest by locking himself in a glass box outside the  Parliament building in Nairobi. On the glass box, the words 'Play 75 per cent Kenyan' were written in bold. His was a campaign for Kenyan radio stations to increase their play of Kenyan music from the current 40 percent.
The contemporary music scene in Kenya is dominated by West African Afrobeats, Tanzania's Bongo Flava and South Africa's Amapiano, while older listeners continue to enjoy the ageless Congolese Rhumba and American hip-hop.
Mombasa-born Makadem, a multi-genre musician who conducts extensive tours within East Africa, had a contrary opinion. "…all these three genres of African pop music come from some of the biggest music producing countries in Africa… Kenya is largely a consumer of good Afropop music… Afropop still doesn't surpass the love for Congolese rhumba, here let alone Jamaican reggae! These two [have a] massive [fan base] here."
Makadem was not enthused about Omondi's protest to increase the radio quota of Kenyan music.
"…the definition of Kenyan music is twisted here […]. According to Nairobi, Kenyan music means Kenyan Afropop music with foreign influences like R&B, hip-hop, reggae, Afrobeats. These are the acts whose music is [referred to as] Kenyan music and these are the artistes at war with foreign pop music dominance. In Kenya, we have ethnic or tribal pop music, which is way bigger than the former…" he told The Africa Report.
Nevertheless, Makadem agrees that his fellow Kenyan musicians are becoming ambitious. "Our local pop stars feel the pinch, but I see it making them start to strategise for bigger better regional content than what they have been doing…", he stressed.
Regardless of the seeming dominance and rise of Afrobeats' phenomenal rise to global popularity, it required the labour and sacrifice of quite a number of deliberate interventions by the Nigerian entertainment stakeholders over two decades ago.
A report by the Africa report lent insight to the history of Afrobeats. One of such sacrifices was captured in this narration. In the early 2000s when Afrobeats was still in its infancy, American hip-hop ruled the Nigerian radio waves. Superstars like Jay-Z, Usher, Joe, Beyonce, Kanye West and 50 Cent regularly held massive concerts in Nigerian cities. Local musicians were assembled into a roster of opening acts for these shows.
American rapper 50 Cent headlined the 2004 edition of the four-city concert Star Mega Jam in Nigeria. Eedris Abdulkareem, a Nigerian rapper who broke out of the popular boy band Remedies, protested the preferential treatment given to 50 Cent and his crew: they had been flown into the country on first-class tickets aboard a plane reserved for them. A physical fight broke out, which led to the premature departure of 50 Cent and his crew from Nigeria, with the help of the American embassy.
Jide Taiwo, a veteran music journalist and author of 'History Made', was quoted to reflect on the incident 18 years later, saying that though he may not agree with Eedris' methods, he undertood his frustrations. "…Eedris may have been misguided in his delivery, but fundamentally, what he was saying was right. 50 Cent bragged in his book that he did not know anything about Nigeria and he was [still] offered $4m to do the show. None of the Nigerian musicians [even got] N1m ($2,409)."
Dissenting African musicians have yet to resort to physical violence like Eedris, but Taiwo believes that they could learn from the Afrobeat example. "…a lot of things happened for Afrobeats to become popular. The music did not stop being good, we kept tweaking and honing. We had telcom [telecommunication] and alcohol [beverage] brands that needed to reach a younger set of consumers and just used the music as a vehicle to push that. The NBC [Nigerian Broadcasting Corporation] directives that radio had to play about 60-70 percent of Nigerian music also [boosted this]. All of these happened at the same period… It was an eventuality that the music was going to blow [become successful]."